The Art and Science of Working with Fungi
February 19, 2018 @ 7:00 pm

-

10:00 pm

$325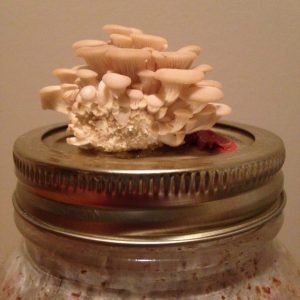 The Art and Science of Working with Fungi:
GROWING MUSHROOMS FOR FOOD, MEDICINE AND SOIL
This workshop series covers the skills needed to grow spawn and mushrooms year-round. Core concepts and practical skills are covered in-depth and include the simplest and most reliable low-cost techniques to grow mushrooms and their mycelium at home, in the garden or on the farm without the need of a dedicated lab space. The class will meet weekly for seven sessions. Each session will include a lecture and a lab component. Over the duration of the course, each participant will culture and grow their own oyster mushrooms from start to finish, getting hands-on experience with each step of the process. These skills can be applied to grow many other species of mushrooms. Cost is $325 and includes materials and two mushroom cultures. Students will create and go home with multiple fruiting kits made from straw, coffee grounds, sawdust and logs. 
Lecture Topics Include
Fungal Biology and Ecology 
Principles of Working with Fungi 
Sourcing Materials
Indoor Fruiting Environments 
Mycoremediation Applications 
Principles of Mycopermaculture 
Off-Grid Adaptations
Scaling Up
Species to Know, Species to Grow 
Usage and Storage
Strain Development and Maintenance 
About the organizer: Willoughby Arevalo made friends with fungi at a young age. After studying fungal biology and identification at Humboldt State University, he learned mushroom cultivation experientially by working at a gourmet mushroom farm. Through working with the Radical Mycology Collective, he taught about seeing and working with fungi across North America. He contributed to the books Radical Mycology, by Peter McCoy and Mushroom Essences, by Robert Rogers. He is in the process of writing a book on home scale mushroom cultivation for New Society Publishing. He is currently on the Education Committee of the Vancouver Mycological Society. He grows mushrooms at home and in the garden, subsistence forages and prepares food and medicine from the harvests.